BNOCC crowned Wilf Bennett Cup champions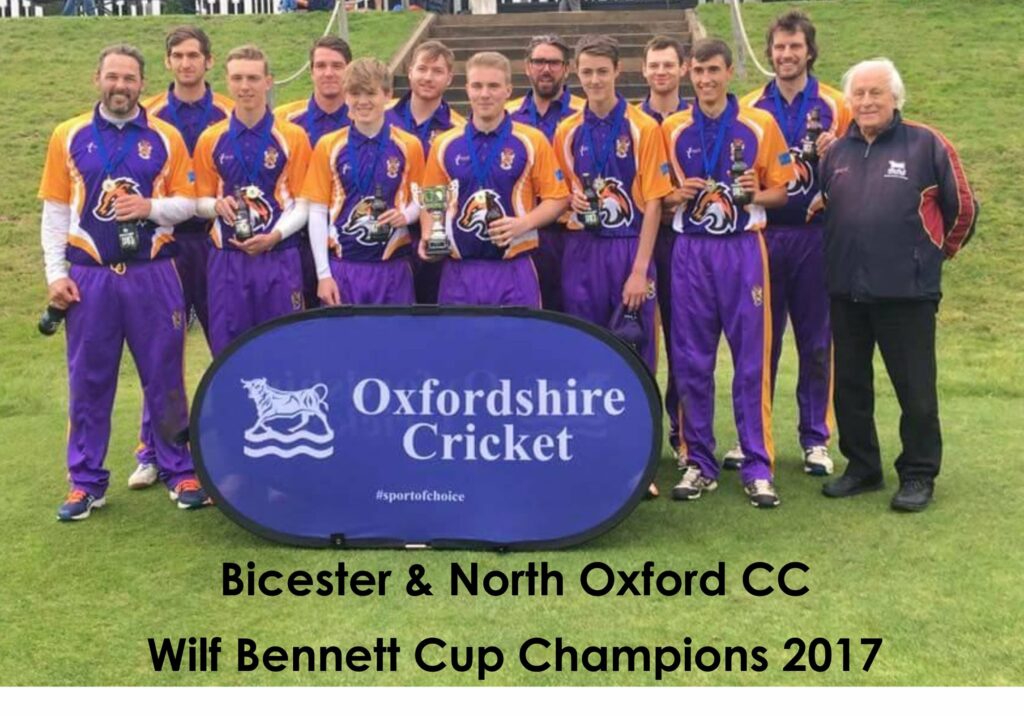 Bicester & North Oxford Cricket Club were crowned Wilf Bennett Cup champions on Saturday, upsetting the odds again to beat Home Counties Premier League Division 1 new-boys Thame Town by 6 wickets.
Bicester's clinical, professional performance could easily have fooled any casual observers in to thinking it was they, rather than their opponents, who will be playing their cricket in the region's top division next summer.
Having been asked to field first, Bicester's bowlers put in an inspired performance to restrict Thame to just 107-6 from their 20 overs.
Dan Savin (1-20) and Danny Clarke (1-14) made early inroads with the wickets of Will Sutcliffe (1) and Michael Higgs (8) respectively, and were well backed up by their switched-on teammates in the field.
Callum Russell (37 not out) and Michael Beard (30) slowly but surely rebuilt the Thame innings, but were unable to take the game to Bicester as they would have liked, with Chris de Kock (0-21) and the excellent Liam Randall (0-15) continuing in the miserly footsteps of Savin and Clark.
With Bicester's tight bowling and excellent fielding increasing the pressure on Thame's top-order, the fielding side benefited from some questionable running, with Russel selling both Beard and Olly Sutcliffe (0) down the river in the space of two overs as Thame were reduced to 68-4 with just 6 overs to bat.
The Moore brothers, Ryan and Lewis, shared the final four overs of the innings, each finishing with 1-16 as Thame continued to find boundaries extremely hard to come by, eventually closing on 107-6.
At the half-way stage Bicester were clear favourites, but in 20 over cricket a lot can change quickly, particularly given the supposed gulf between the two sides.
Bicester's reply got off to a mixed start, with Stafford Sansome driving the first ball of the innings back past Higgs for a boundary. In contrast, in had taken Thame 6 overs to find the rope for the first time.
Olly Ward, whose 199 runs in the competition had gone a long way to seeing Bicester reach the final, was then bowled for a first ball duck, giving Thame a much-needed boost.
Sansome and Alister Gibbins did well to make sure Theme's success was short-lived, however, and were helped by Thame's bowling and fielding, which was a direct contrast to Bicester's.
Where the sum total of Bicester's extras was 5 leg byes, the Home Counties side's profligate bowlers gifted Bicester 37 runs in wides, as well as bowling 2 no balls.
Gibbins was also given a life when a gentle lob to mid-off was somehow dropped, and he went on to make the most of his reprieve with 35 invaluable runs in a partnership of 88 with Sansome.
His dismissal, caught by Will Rooney off Hassan Mushtaq's leg-spin with the score on 95, prompted a brief wobble as Ryan Moore (1) and Sansome (25) fell to Beard and Rooney respectively, but Dan Murphy (3 not out) and Dan Savin (0 not out) kept their cool, and it was fitting, if slightly anti-climactic, that the winning runs came courtesy of 5 leg side wides.
While Bicester's league form has been inconsistent this year, their sensational run in this T20 competition – during which they've beaten 3 Home Counties sides, and won a competition in which all but two of the 16 sides are in higher division – should give them great cause for optimism ahead of the 2018 season.