Presentation Evening 2017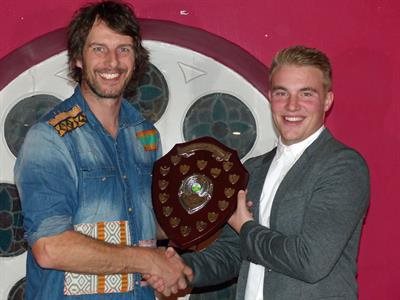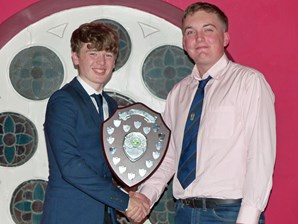 Hot on the heels of their victory in the Wilf Bennett Cup Final, Bicester and North Oxford Cricket Club continued their celebrations at their 2017 Presentation Evening.
Close to 50 players and club members past and present filled the room at Trinity Cabbages and Condoms to celebrate the successes of the season.
Winners of the main Player of the Season awards were Alister Gibbins, for his 473 1st XI runs, including 2 50s and 2 100s, at an average of 52.
Liam Randall scooped the 2nd XI Player of the Year gong for his 31 wickets, and Michael Ilbery won the 3rd XI award for his 269 runs.
Oliver Ward won the Clubman of the Year award for the second year running for his work off the field, including the rejuvenation of the club's social scene and the organisation of this year's six-a-side competition.
Particularly pleasing was the number of awards that went to young players who have made their way up through the club's junior system, and are now having a significant impact in senior cricket.
These included Dan Savin (1st XI bowler, 28 wickets), Randall, Ryan McLaughlin (3rd XI Bowler of the Year and Most Improved Junior), Ben Clark (2nd XI Batsman of the Year), Joseph Conway (Friendly XI Player of the Year), and Lewis Moore (Junior of the Year).
As well as the formal awards, there were also awards for some of the Club's social activities, with Chris de Kock winning Tourist of the Year, and Dan Simpson, Dan Savin, Joe Moorman, Matt Collins and Martin Randall earning recognition for their golfing exploits.
The club would like to offer its sincere thanks to Bicester Village and HMG Law for their continued sponsorship of the club, and also to Bicester Leisure Centre, Bicester Hotel, Golf and Spa, U Drive Cars, Pizza Express and TrySports for donating raffle prizes.
The 2018 season promises to be an exciting one for the club at all levels and, as always, new players of all abilities are welcome to come along and enjoy both the cricket on the field and the social activities off of it, with nets due to start early in the new year. If you can't wait until then, you can contact any of the club's officials through the Contact page at www.bnocc.com.
Bicester & North Oxford Cricket Club Bicester and North Oxfordshire Cricket Club is a family-friendly, inclusive club where cricket can be played and watched within both the spirit and laws of the game.
Full list of award winners:
| | |
| --- | --- |
| Cricket Awards: | |
| 1st XI Player of the Year | Alister Gibbins |
| 1st XI Batsman of the Year | Nick Moorman |
| 1st XI Bowler of the Year | Dan Savin |
| 1st XI Player's Player of the Year | Dan Murphy |
| 2nd XI Player of the Year | Liam Randall |
| 2nd XI Batsman of the Year | Ben Clark |
| 2nd XI Bowler of the Year | Liam Randall |
| 2nd XI Player's Player of the Year | Callum Doak |
| 3rd XI Player of the Year | Michael Ibery |
| 3rd XI Batsman of the Year | Stevyn Jackson |
| 3rd XI Bowler of the Year | Ryan McLaughlin |
| 3rd XI Champagne Moment | Mark Adams |
| Friendly XI Player of the Year | Joseph Conway |
| Youth Player of the Year | Lewis Moore |
| Most Improved Youth Player of the Year | Ryan McLaughlin |
| Wilf Bennett T20 Player of the Year | Oliver Ward |
| Clubman of the Year | Oliver Ward |
| Six-a-side competition winners | Lewis Moore (c), Danny Clark, Dan Murphy, Martin Randall, Robin Wilkins |
| | |
| Social awards: | |
| Golf – Nearest the Pin | Dan Simpson |
| Golf – Longest drive | Dan Savin |
| Golf – Winning team | Matt Collins, Martin Randall, Joe Moorman, Dan Savin |
| Tourist of the Year | Chris de Kock |